The Dean's Welcome Message
Promotion of Human Health by Pharmaceutical Practical Abilities


It would be the happiest that we can live without any disease or serious injury. However, we usually need to overcome some disease and/or injury some time in our long life. To do that, the medical treatment is indispensable, and "medicines" are essential substances.
In order to develop "medicine", we have to do many things as follows:
1. To clarify mechanisms for diseases.
2. To search, purify and synthesize chemical substances, which can suppress the causes and symptoms of diseases.
3. To investigate the pharmacological effect and safety of chemical substances.
4. To clarify the destiny of chemical substances in the body.
5. To make chemical substances to tablet, granule or injection.

On the other hand, in order to contribute to the medical treatment and health promotion and to maintain the environmental hygiene, by using "medicine", pharmacists do many things as follows:
1. To determine adequate dosing methods, develop dosing plans and drug administration guidance to patients.
2. To regulate and supply medicines adequately.
3. To participate in the medical treatment as one of the medical staff.
4. To maintain and regulate the environmental hygiene.

In 2015, the United Nations set 17 sustainable development goals (SDGs) including "Ensure healthy lives and promote well-being for all at all ages" as a long-term goal to be tackled by people all over the world.

In the Faculty of Pharmaceutical Sciences at Okayama University, we are carrying out education and research on what is necessary to achieve SDGs and to promote human health. Our education and research have resulted in cultivation of specialists who have sufficient pharmaceutical practical abilities. The graduates are working in pharmaceutical companies to develop "medicine" for prevention, diagnosis or treatment of diseases. In addition, they are also working actively as leading pharmacists at hospitals carrying out the advanced medical care or at pharmacies contributing to the regional medical care.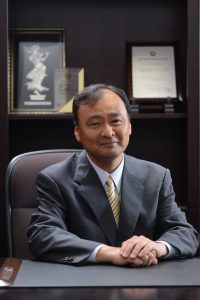 Shin-ichi Miyoshi
Dean, Division of Pharmaceutical Sciences, Graduate School of Medicine, Dentistry, and Pharmaceutical Sciences Okayama University